Why get a web site for your denture clinic?
• Grow your practice – don't  lose new and existing patients because you don't have a website!
• Web searches are not only performed by those needing dentures but also their children and family members and a custom website ensures that your clinic's personality connects with the person performing the search.
• If you don't have your own full website you are less likely to be found when people are searching on the Internet for denturists.
• Provide more premium services by creating more demand for premium denture cases, implants, relines, denture cleaning and consumer dental products.
• Increase patient throughput by educating patients in advance of arrival and having forms filled out in advance.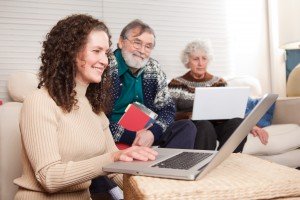 What's included?
• Securing a domain name for your clinic (www.mydentureclinicx.com)
• Free initial setup of one of our templates for your site.
• Hosting of your website.
• Add-ons for Facebook, Twitter, Google Adwords and more are available.
How to get started?
• Call us today and we will quickly collect the information we need to get your site up and running.
We have been making websites for the dental industry since 1997 so you can be assured the special needs of your denture clinic is in good hands.
For more information visit our web site or contact us now to start the process.